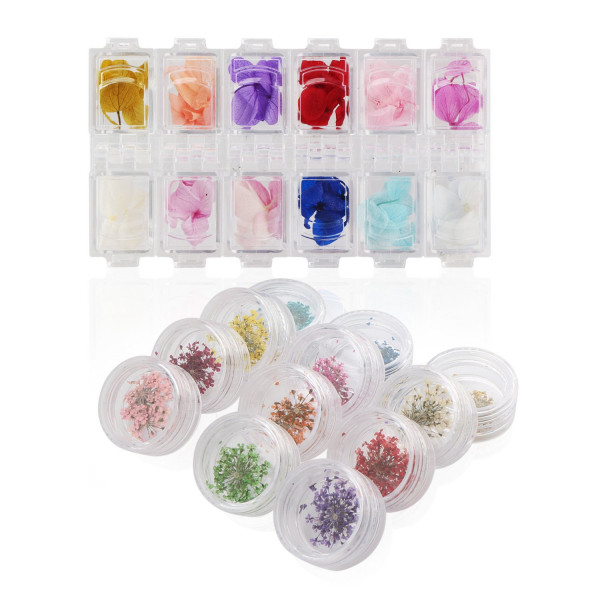 Product description
How to Use Dried Flowers in Nail Art

To apply, begin by selecting a few petals, or by teasing a few flowers and stems away from the bunch with a pair of nail art tweezers, trim them to length, and arrange them ready to encapsulate in an Acrylic or Gel nail technique.

Choose a nice contrasting background colour or use a clear gel to really show off the detail in the flowers.

Or you also have the option of applying the dried flowers directly on top of the nail. Use a layer of top coat to adhere them, then seal the flower for protection with another coat or two of your favourite top coat. (But note that This method is quick to apply but typically does not last as long.)

How to Remove Dried Flower Nail Art

Simply soak off the gel or acrylic nails in the normal way using a soak off tray or foil soak off wraps and the flowers will come away as part of the process. Dispose of safely and responsibly.

NOTE:

1. The tiny flower heads and petals are unique in shape so each application will be slightly different but more importantly it would enhance the overall natural look.

2. Please make sure the flowers are really flat to begin with. It is a good idea to prepare the dried flowers in advance by flattening them using a heavy book.

3. Take care not to saturate the flowers with too much monomer (if encapsulating) or too many strokes of top coat.

Nail Art Accessories Dried Flowers, Segbeauty 24 Different Colorful Nail Stickers For DIY Crafts Nails Decorations