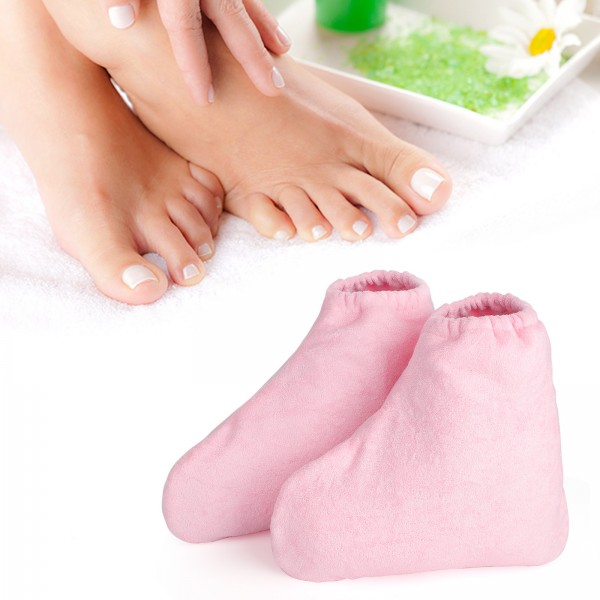 Specifications:
Material: Soft smooth terry cloth
Color: White/Pink/Blue
Bootie Size: 28 x 25 x 18 (Max) cm / 11 x 9.8 x 7.1 (Max) inch
Features:
Adjustable Elastic Opening for Better Fit: Upgraded design of elastic opening helps them hug your arms and ankles snugly & allows you to put them on by yourself easily. Without worrying them sliding off NOR tightening too much, this adjustable opening can better match your personal shape so as to enhance your cozy enjoyment of a DIY SPA-quality wax treatment in the luxury of your own home.
Double Padded Terry Cloth for Heat Retention & Moisture Retainment: Soft smooth terry cloth material benefits to penetrate the nutrients and essence into your skin for better absorption, maximizing the effect of your paraffin wax bath treatment. With these wax SPA helpers, you can soothe, moisturize, and rejuvenate the dryness and roughness of your hands and feet.
Washable Cloth for Easy Maintenance: Made of fully washable and reusable cloth material, they are hassle-free and easy to clean after use for your convenience.
Multi-purpose Usage: Suitable for personal daily skin care, home wax SPA DIY, and professional SPA or salon services. Great for paraffin wax bath, hot wax therapy, therabath, wax care treatment to relieve the pain of arthritis and your daily tiredness. Before sleep, you can apply moisturizer or cream, put on plastic liners and then mitts and booties. You may be pleasantly surprised to find your rejuvenated and beautified hands and feet when you wake up.
Normal Size: Bootie Size: 28 x 25 x 18 (Max) cm / 11 x 9.8 x 7.1 (Max) inch. Please be sure to read the MEASUREMENTS on the pictures before placing orders.
Usage:
Evenly apply wax or skin care products (such as hand cream, hand or feet moisturizer ) to your hands and feet, or use a wax machine to soak 5 times;

Wrap them in disposable glove and booties liners (also available in our store) or plastic wrap to help absorption;

Put your hands and feet into the cotton gloves and booties for 15~20 minutes.
Package Includes:
1 set * Paraffin Wax Booties
Segbeauty Paraffin Wax Booties Heated Foot SPA Liners Refill Feet Cover Bags for Hot Wax Therapy Paraffin Thermal Treatment