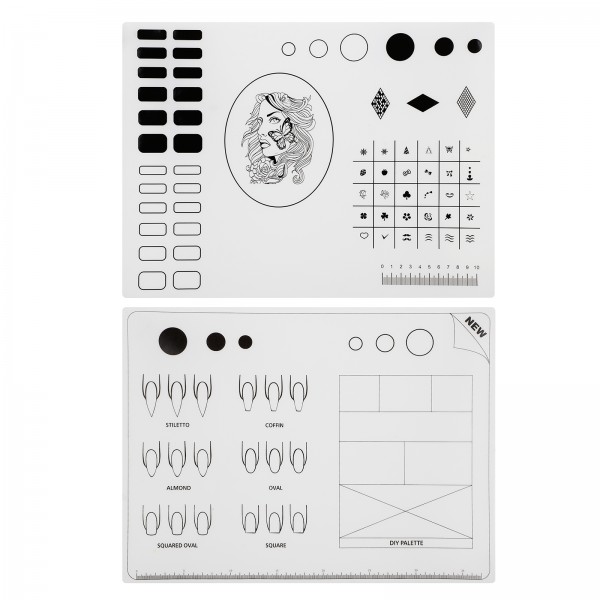 Description:
Size: 15.75 x 11.81 in/ 40 x 30cm
Material: Silicone
Features:
Multiple Nail Shapes and Decals: Offer the nail decal guides with several sized and variations in nail shape. Provide some easy icons that you can fill in with your polish or chunky glitter to make the most amazing nail art decals.
Color and Ruler Test Zones: The practice sheet for nails offers the black and white accented area for color combo testing. Also have these grids which are organized by the rule of thirds for each finger. The ruler would let you know if a design will fit your nails - measure both and see.
Table Protector: A perfect size table protector to keep your work area from getting any messes, dirty on it, and gel polish can be easily cleaned with acetone, sticky tape, lint roller and nail polish remover. The mats can also be stowed away to save space.
Portable and Reusable: Easy to carry, free to fold, crease will not be expanded. Made from silicone, this soft nail art pad is tasteless, foldable, washable, easy to clean and storage.
Widely Used: Great for testing nail design and making decals. Simplified nail art and make it accessible to everyone. Suit for both professional and personal use.
Simple Cleanup: Acetone and nail polish remover proof.
Usage of nail mat:
Take out the pad, choose a shape, and brush with bright oil-to dry

Print the nail pattern on the dried gloss

Fill in the printed pattern with your favorite color-to be dried

Remove the finished ornamentation and paste it on the nail-modification
Tips:
1. If you have polish that stains your stampers (like really, highly, extremely, very, very...very pigmented polish - also some jelly/leadlighting polishes may stain for unknown reasons) - they may stain the mat. We found 99.5% of polishes work fine so if you're worried just test a small part on the side to see if it does.
2. Do not let stamper heads (mostly the sticky ones) sit on it for an extended period of time (more than a few hours) as it may cause un-doable bubbling of the mat. We found this happen when you let the flat part of the head sit on the mat overnight. We're thinking this is due to the oils that are found on some stamper heads.
3. CARE: Wipe clean with acetone, sticky tape, lint roller or nail polish remover. Store flat on your work space, or rolled up in your favorite nail supply nook or cranny.
Package Includes:
2pcs * Nail Art Stamping Mats
Segbeauty 2pcs Nail Art Stamping Mats DIY Silicone Workspace Stamping Plate Manicure Mat Washable Soft Table Cover Pad