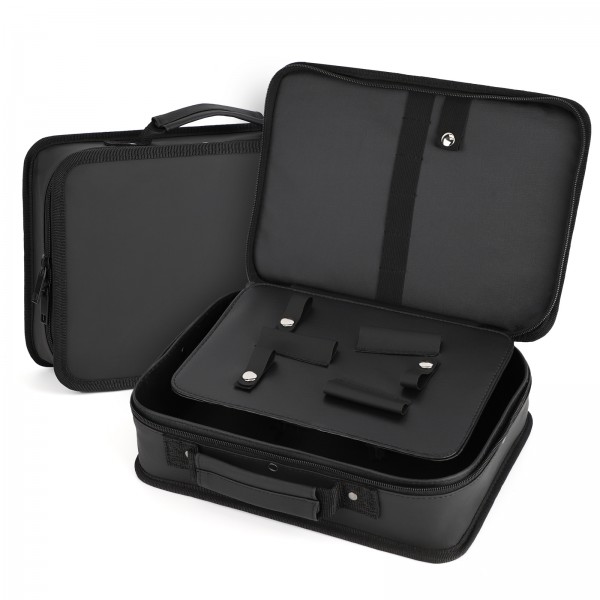 Description:
Size: 11.8 x 8.5 x 3.2 inches (30 x 21.5 x 8 cm)
Color:Black
Material: PU Leather
Features:
PVC Compartment and Elastic Band for Organized Look: Special design with PVC compartment for protection of clipper. Elastic bands for keeping the scissors and combs in place, preventing scratches and shock.
Compact for Basic Travel Needs: Measured 11.8 x 8.5 x 3.2 inches this bag is compact, suitable for holding basic tools without hair dryer. If you need to carry hair dryer around, we would recommend you use the other larger case we offer.
Soft Wide Handle: Wide handle, reducing the fatigue of carrying the case. Makes travel all the more comfortable and easier.
Hard-wearing: We test and use the most sturdy composite material to ensure long-lasting life.
Multi-uses: Portable. Can be used as a travel bag as well as an organizer in barbershop or hair salon. A great gift for barber friends, hair stylists and pet groomers.

Hard-wearing tool case with detachable shoulder straps

Hair dryer can fit in. Your all-in-one barber tool case.

Anti-shock and scratch protection with divider, pouches and elastic bands.
Package Includes:
1 * Barber Tool Bag
Segbeauty Barber Tool Bag 11.8 x 8.5in PU Leather Travel Makeup Toiletry Carrying Case Hair Storage Organizer