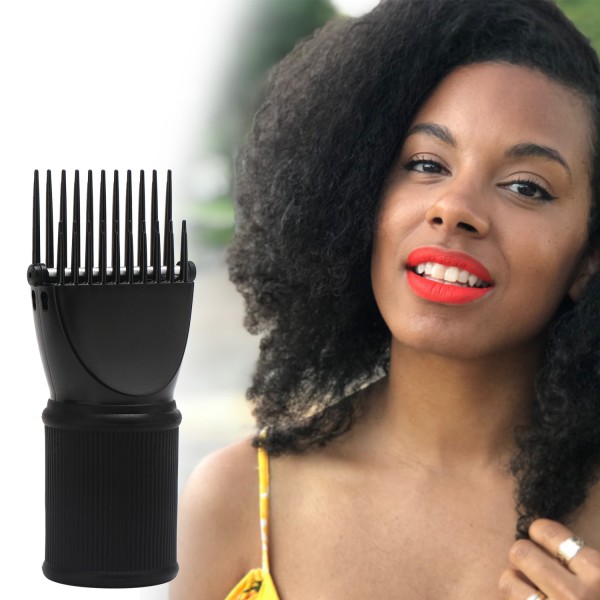 Specifications

1. Great Compatibility: fit with most blow dryers ( Please see the pictures for instructions of the blow dryers that would fit). The rubber base will stretch and hug your blow dryer. All you need is to push it down and make it snug.
2. Sturdy and Durable: made from heavy-duty material for long lasting use. Heat-resistant and sturdily-built without the frustrating issues of breaking or bending teeth.
3. Double-tier Dual Teeth Design: the pik concentrates air flow to detangle and straighten your hair in one step. The small ,extra set of teeth at the base of the comb made all of the difference, your hair would be combed twice with each pass, making your hair super smooth and straight, cutting your styling time in half!
4. Hair-protective: won't release harmful substances when comb through your hair, making your hair smooth and straight.
5. Applications: works great to maintain straight hair, and also a great helper for the people with curly, natural, black hair to straighten up their hair a little. Speeds up drying time on weaves, wigs & extensions.


Note 1:

• You cannot straighten up your hair fully but a little bit.

• After straightening up the hair, it remains straight till you wash your hair.

• If people of natural, curly, kinky hair use fine tooth comb attachment, they may face vast hair falling.


Note 2:

(1) There are several common types of blow dryer that can't match with this diffuser. And we've noted dimensions requirements on the pictures for reference.

(2) Please make sure that the blow dryer you are going to match with meets all the following three requirements:

A. The nozzle of the blow dryer is orbicular round shape.
B. The diameter of the nozzle is between 1.57~~1.97 inches (4-5cm).
C. The dryer cylinder tapers toward the end of nozzle.


Package Includes:

1 * Hair Dryer Comb Attachment ( Pink/Black/Purple)
Segbeauty Hair Diffuser Dryer Comb Attachment Hairdressing Blower Concentrator Nozzle Attachments Styling Tool