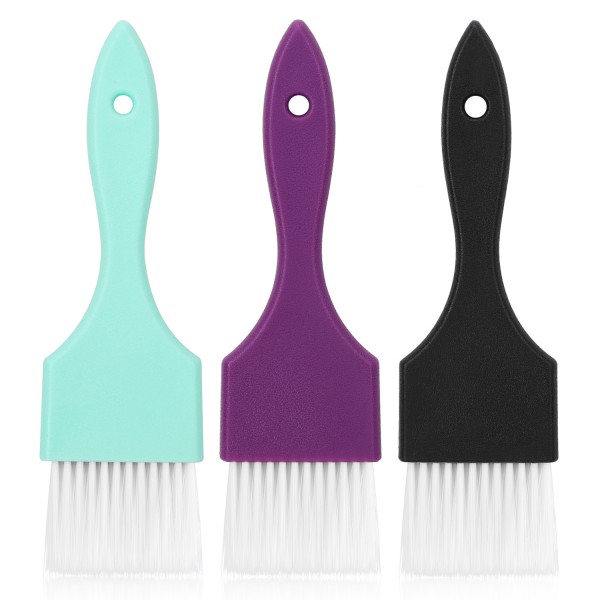 Description:

Material: Silicone plastic
Size: 2.2*0.6*7.5 inches
Color: Black, Purple, Green


Features:
Dense Soft Bristles: Soft hair is distributed in three rows without gap in between, so balayage brush can hold color well for applying to hair, getting the hair all the way to the roots and scalp. Bristles are soft and great for foils.
3 Pieces Power Painter Brushes: During the application, three pieces painters with different color help save the trouble of constantly changing and cleaning the bristles, especially when doing highlights.
Wide Brushes and Handle Design: Wide part of the handle with curves near the bristles lets you grab it for very fine control, and to dye hair evenly. Besides, brushes are wide,which is so perfect for covering more space to make application easier for best coverage.
Reusable and Durable: Bristles are not easy to to fall out. Also it cleans up nicely with hot water. Please make sure to wash and dry as soon as possible before you store away.
Multiple Usages: Other than hair coloring, this brush is also suitable for dyeing hair extension, keratin treatment, even watercolor painting.

Package Includes:

3pcs * Brushes
Segbeauty 3pcs Salon Hair Dyeing Brush Set Hair Tint Coloring Balayage Set with Soft Bristle for Hair Color