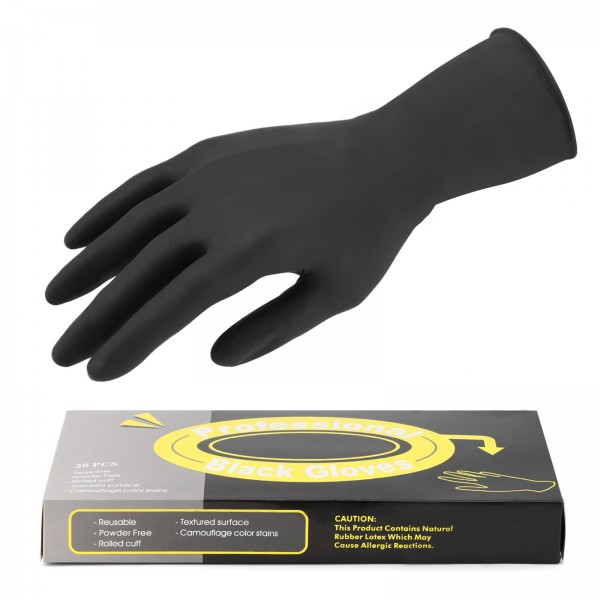 Description:
Note: Please be sure to read the MEASUREMENTS on the pictures before placing orders.
Size: Small/Medium/Large
Material: NBR(Propylene, butadiene)
Features:
Reusable & Washable: Soft to the touch, lightweight, not easy to slide, good elasticity, flexible to operate with our gloves. Suitable thickness so our hair coloring gloves are not easy to crack. Easy to wash, reusable, more eco-friendly.
Well-protective: Adopted by high quality material, perfectly protect your hands from hair color cream, pigment, oil paint, dust, etc.
Durable & Good Elasticity: Its shape is designed according to human hand, with great sensitivity, excellent tensile properties and high tensile strength.
Wide Applications: Broad applications in daily and industries. Good protection for hands in hair color, house cleaning, kitchen cooking, beauticians, pets care, tattoo art, etc. Also, it's great protector in semiconductor, precision electronic and high-tech products installation and debugging , LCD display meters, circuit board and other fields.
Important Reminder: Our hair dye gloves can not bear high temperature and insulation properties. Do not use it in high-temperature workplaces. Stop to use when the glove is damaged. Store it in dry.
Package includes:
10 pairs of hair dye gloves, totally 20 counts.
Segbeauty 20 Counts Thicken Hair Dye Gloves Black Reusable Hair Color Gloves Salon Rubber Gloves Hair Coloring Highlighting Accessories