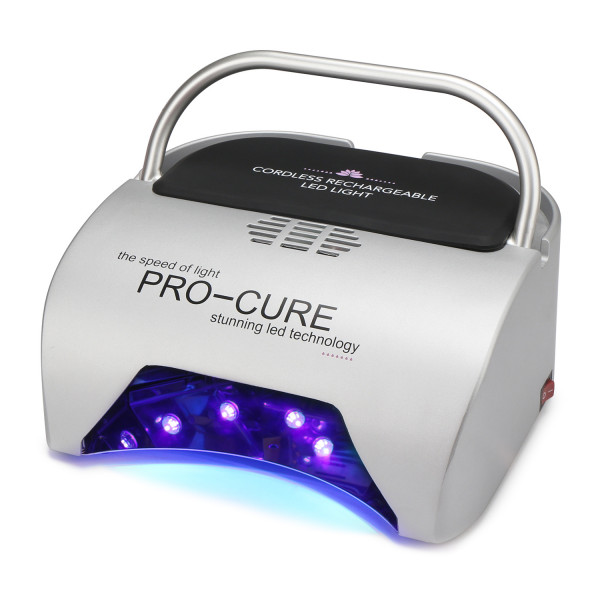 Features & Benefits
Faster than a UV lamp, it cures your nails quickly and evenly by offering three preset timers for 5, 30, and 50 seconds.
Built-in infrared motion sensor detects your hand or foot to automatically turn on the lights.
LCD DISPLAY SCREEN -- Display a digital countdown to see exactly where you are in the curing process.
CURVED SHAPE & REFLECTIVE BOTTOM -- For the maximum and balanced light exposure.
Also the magnetic bottom plate could easily pulls off to allow easy cleaning.
Portable & Home Use & Professional -- convenient to take anywhere since it could be both rechargeable and plugged into.
Product Introduction
Saving Your Sanity, Money, Time, and Hassle -- quickly cure gel nail polish to a hard and durable surface, getting you back in action that much faster, making your nails look extra sexy.
Speeding up the cure time of your nail polish, it lets you go on with your life much quicker and without worrying about smudging your nails.
Overheating protection is built into the LED lamp, it will turn off automatically when temperature exceeds 55℃/131℉.
Application -- Our Segbeauty Nail Dryer Lamp is targeted for curing most gel polishes, such as those brands Sally Hansen Salon Gel, Couture, Daisy Gel, Bio Seaweed 3-STEP Color Gel, Bio Seaweed Gel Unity, Cacee, Artistic Colour Gloss, China Glaze Gelaze, ManiQ, Cuccio Colour, Essie Gel, Gel II, EZ Flow TruGel, Gellux, Entity One, Gels in Action, Glam & Glits INK, IBD Just Gel, Fingerpaints, etc.


Product Specifications
Product Type: Nail Polish Dryer LED Lamp
Material: High Purity Aluminum
Color: Silver
LED Bulbs: 18pcs
Power: 48W
Voltage: 110-240V, 50/60HZ
Recharge Adaptor: 12.6V, 1.5A
Charging Time: 2.5hours
Working Time: 1.5hours
Time Setting: 5s, 30s,50s
Unit Dimensions: 8.9 x 8.6 x 4 inches (226 x 220 x 105mm)
Weight: 4.74lbs (2.15kg)
Easy Operating-- Preset Timer & Motion Sensor Activated
Plug into power and turn on the master switch.
It has 3 buttons on the back where you can set it to cure for 5, 20 or 30 seconds.
Put your hand into the LED Lamp and it will turn on/off automatically.
NOTE:This nail curing lamp machine can't be used for Shellac manicure.

Nail Art Gel Nail Dryer LED Nail Lamp 48W