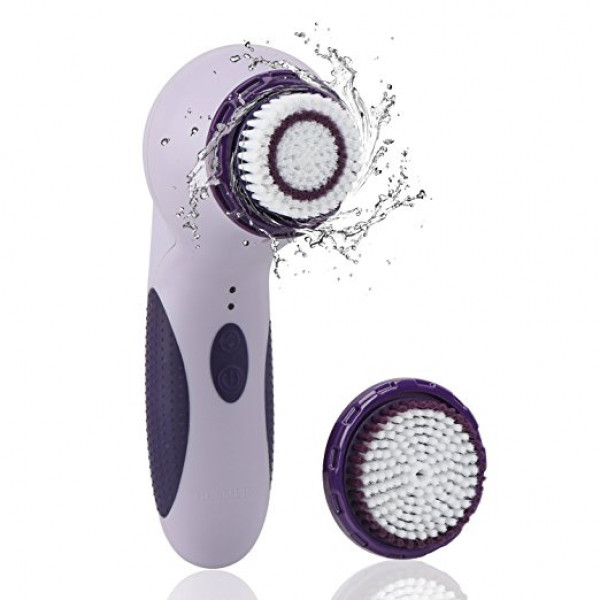 Features & Benefits
THOROUGH CLEANSING to scrub out dirt, makeup, oil, dead skin, and bacteria from your pores; and helps remove blackheads and whiteheads.
360-degree rotating brush effectively reaches hard to clean areas like the sides of your nose and t-zone
Three Speed Options & Automatic Timer Alert

Waterproof for Shower Worthy

Rechargeable-- with charging stand included, for cord free convenience.
Function Introduction

This device could recognizes the brush head that is attached to the Handle and automatically adjusts speed options based on the brush head used. With three speeds, you can control how the cleansing brush treats your skin for a customized facial care routine. The built in automatic "even-cleanse" timer alerts you to move to another area of your face every 20 second (for your body every 60 second).
The antimicrobial brush head is soft, with certain size to get deep into pores that a washcloth cannot reach to remove make-up, oils and debris, which is great for blood flow, new cell generation, skin whiten and promoting the absorption of skin care products.
With continued used of this brush, it can refine pores, smooth wrinkles, improve complexion, achieving the tighter, cleaner, lifted, smoother, rejuvenated and revived skin.
Product Specification

Vibration Frequency: 18000 times per minutes
Operating Voltage: 4.2V
Operating Current: 20mA
Rated Power: 2.8W
Charging Time: 16-18 hours (When charging for the first time, there needs 20-24 hours charging.)
Product Dimensions: 180 × 90 ×75mm (7.1 × 3.5 ×3 inches)
Net Weight: 500g (17.6 ounce)
Three Different Speeds

The low speed(bottom red light on) is used to clean skin gently, relax muscle and relieve stress.
The medium speed(top red light on)fits for all kinds of skin, providing normal sonic cleansing , six times cleaner than hand-washing.
The high speed(both lights on) is for deep cleaning, removing dead skin, dirt, oils and residual , opening clogged pores to regain smooth skin.
NOTES

Universal Charging Cradle: compatible with international voltage 100-240V, used with the supplied power adapter only.
It is not a medical device and is not intended to treat medical conditions. If you are under a doctor's care for any skin condition, or if you have very sensitive skin, please consult your physician before using this device.
Do not use it for sensitive skin.
Automatically shut off when using for 1 minute, so that it will not hurt your skin for long time cleansing.
Electric Sonic Facial Cleansing Brush