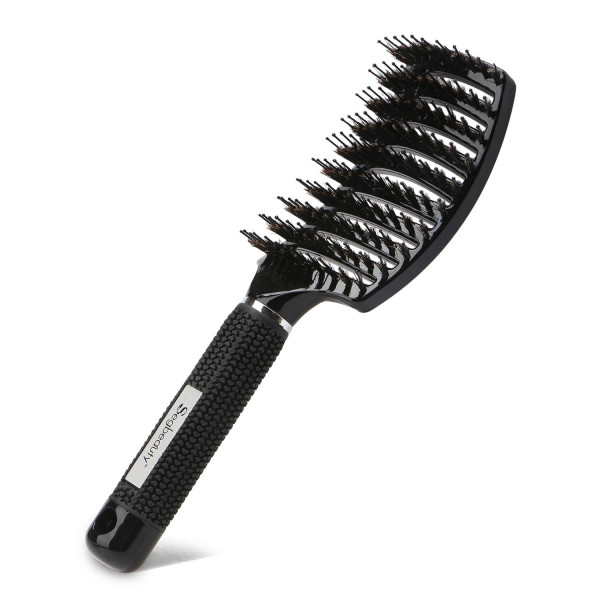 Product description:
1. Bristle Brush fits for all kinds of hair---- long or short hair, thick or fine hair, curly or straight hair, wet, damp or dry hair. The brush works well for both men and women.
2. No need to cut your hair, since it could effectively deal with knotted hair mess when you're rushing for school or work.
3. The bristle hair brush improves hair texture via daily brushing. For straight hair, it will add bouncy volume and shine. For curly hair, it will condition and slightly loosen the curl.
4. Stimulate the scalp and spread sebaceous oils from the root of the hair to the tip.
5. Add hair volume and enhance hair's overall look and health.
6. Alleviate oily scalp and condition dry ends.
7. A form of dry shampooing.
Tips:
1. The bristle hair brush is the combination of wild boar bristles and nylon bristles, so you can remove detangles and improve hair health at the same time.
2. Always brush hair from root to tip, so that the brush can distributes the sebum and creates shiny, bouncy locks.
3. You'll have the best results using a boar bristle brush if you're using a sulfate free shampoo.
4. Use a shampoo that does NOT contain the ingredient: sodium laureth sulfate.
5. If you have long or thick hair, it's better to brush in section.
Package Includes:
1 * Bristle Brush
Segbeauty Black Boar Bristle Vented Hair Brush Hair Nylon Detangling Pins Vented Curly Hair Care Scalp Massager