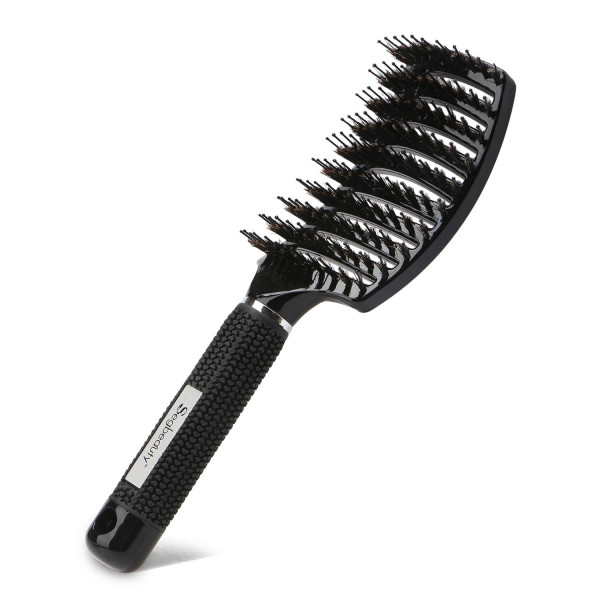 Product Description
Boar Bristle Brush, as the natural hair styling tool, is usually made of soft hog hair. Since the 1800's, boar bristle brushes have been used to create shiny, healthy hair without styling products.

- The Segbeauty Boar Bristle Hair Brush fits for all kinds of hair-long or short hair, thick or fine hair, curly or straight hair, wet, damp or dry hair. The brush works well for both men and women.
- Unique curved shape, the bristle brush is perfectly curved to the shape of head, and the over-sized brush enable you to brush with more hair at the once, saving brushing time.
- Each bristle is accompanied with a bunch of natural boar bristles, which reduce friction, prevent electrostatic generation, and help distribute the hair oil for hair growth evenly and made your hair more shiny smoother and healthier.
- Detail Oriented- hollow design and tightly stuck bristles help remove water to dry hair quickly; the round cushions on the nylon bristle tips give great comfort for scalp; The anti-slip handle is soft and beautiful, filled with heart-shaped rubber.

Benefits of Boar Bristle Brushing:
• The unique structure of the boar bristle carries sebum – the oil produced by the scalp – from the scalp to the end of the hair shaft. By coating each hair strand with a very, very small amount of sebum, a boar bristle brush repairs dry hair and adds lustrous shine.
• The bristle hair brush improves hair texture via daily brushing. For straight hair, it will add bouncy volume and shine. For curly hair, it will condition and slightly loosen the curl.
• By using a boar bristle brush to lubricate each hair strand with sebum, the original and most effective anti-frizz ingredient, you'll notice a significant decrease in frizz!
• Gently massages the scalp with comfort, stimulating blood flow to the hair follicles, improving hair growth.
• As your hair become healthier, softer and conditioned with regular brushing via boar bristle brush, you can save time and money on leave-in conditioners or hair serums.

Tips:
1. The Segbeauty boar bristle hair brush is the combination of wild boar bristles and nylon bristles, so you can remove detangles and improve hair health at the same time.
2. Always brush hair from root to tip, so that the brush can distributes the sebum and creates shiny, bouncy locks.
3. You'll have the best results using a boar bristle brush if you're using a sulfate free shampoo.
4. Use a shampoo that does NOT contain the ingredient: sodium laureth sulfate.
5. If you have long or thick hair, it's better to brush in section.

Black Boar Bristle Hair Brush