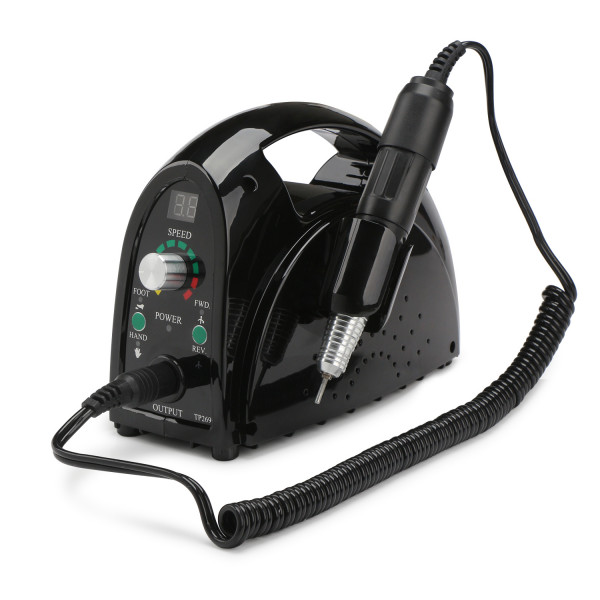 Product Features & Benefits
A VARIABLE SPEED CONTROL that goes from 0 to 35,000 RPM of spinning and grinding power that helps shape natural and artificial nails quickly and smoothly with no chipping, also provides precision work and safety when working on delicate fingers and cuticles. So you decide what speed you need to properly shape and finish nails to the way you want.

Coming with a slight vibration feature and a very quiet operation mode, also including several removable bits that can be swapped on the fly. Each bit/head is used for a different purpose. The drill itself has a construction with a special grip on the lightweight handlepiece that helps improve precision while offering overheating protection.
TWIST-LOCK MODE FOR REPLACING BITS. "R" direction is to release; "S" direction is to lock the bits. All of the attachments come in the size that nail techs use in the salon. And the chuck size can be adjusted to accommodate different bits size.
A FORWARD & REVERSE FUNCTION allows to switch the rotation when switching hands, perfect for those that manicure themselves. It has a foot pedal control to leave you hands free to do other things. It has a holder on the side and a separate holder where you can rest the drill itself on.
Product Brief Introduction
Input Voltage: AC110 V
Electric Power: 65 W
Weight: 6.17 lbs (2.8kg)
Pack List: 1 x main machine, 1 x handlepiece, 1 x foot pedal, 1 x handlepiece holder, 1 x power adaptor, 1 x drill bits set, 1 x multi-functional wrench piece
NOTES
Please note there is "R" and "S" letter printed on the red sleeve of the hand piece. Turn the piece where you see them to R, counter clockwise, to release the drill and then after you put the new one in you turn clockwise to set the new drill in place.
Please use with caution start on slowest speed until you are more acquainted with unit.
The multi-functional wrench is used to adjust the chuck size for different bits size. If using the same size bits, there is no need to adjust the chuck size.
Nail Drill Machine 110V 35000RPM