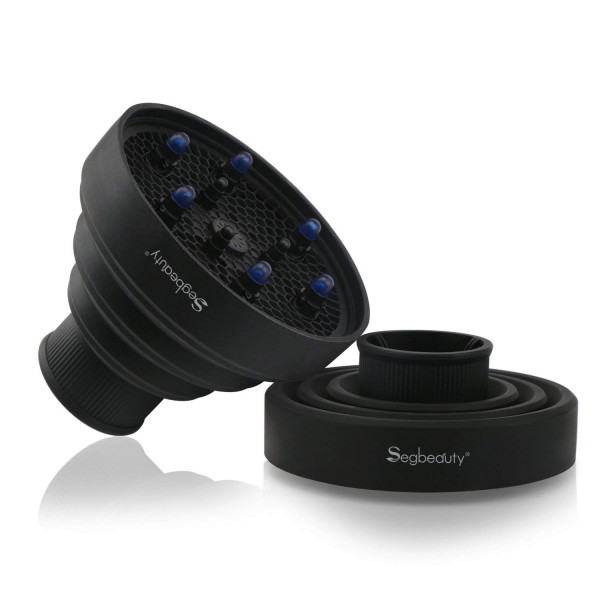 Features & Benefits

A hair diffuser will give you the volume, the lift, and the extra boost for your hair, and can be used on any type of hair from straight, limp hair to wavy hair and curly hair.

This collapsible silicone diffuser makes it much simpler to add spring to your strands, encourage natural texture and eliminate frizz.

A hair diffuser attached to the end of a hair dryer ends up drying your curls with indirect heat for health.
Smart Folding Design for Easy Carrying & Storage
The silicone construction is built to stretch and shrink.

Besides, the flexible material lets you collapse your diffuser into a flat, packable shape that slips easily into your bag or the corner of your overstuffed suitcase, so you'll always be able to carry the tools you need to keep your tresses smooth, springy, and styled.






















Tips for Using a Hair Diffuser
1. Wash and condition your hair

2. Add anti-frizz serum or anti-frizz product

3. Attach the hair diffuser to the hair dryer

4. Focus the diffuser on the top of your head

5. Use the diffuser and gently release your hair through your fingers

6. Add any additional products you would like
























Classic & Elegant Black
Premium Quality


User-friendliness & Ease-of-use
It is designed to fit most hair dryers, but it not universal, so be sure to research and see if this diffuser will attach to your current hair dryer before purchasin
Segbeauty Collapsible Hair Diffuser Foldable Silicone Blow Dryer Curly Hair Diffuser for Natural Wavy Fine Thick Hair